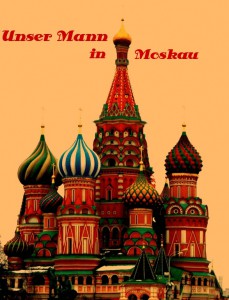 "Safety first" heißt es ab sofort in russischen Fußballstadien durch ein neues Fan-Rückverfolgungssystem. Ob es wirklich hilft weiß Unser Mann in Moskau. 
Russia's new fan identification system – a special report
With reports coming out of the Euro 2016 tournament in France describing highly trained hooligans abstaining from alcohol, wearing gum shields and trained in special forces-style combat, a new, ever starker picture of Russian football culture emerged at an uncomfortable time in the country's sporting history. However, despite some official praise for the perpetrators, the lurid tales of violence and pictures of bloodied supporters became a cause for concern, not just abroad but also at home. As a result, Russian football fans are currently subject to a new project aimed at clamping down on the organised violence that was so conspicuous in the summer.
On 8 November, FIFA and the Russian Communications Ministry signed a joint memorandum providing for the creation of fan passports for supporters attending either the 2017 Confederations Cup or the 2018 World Cup. The stated goal of the programme is to provide an elevated level of security for supporters, and Communications Ministry head Nikolay Nikiforov expressed hopes that issuing and using the fan passports would make things "quick and easy" for supporters.
The ministry expects to issue around three million of the fan passports, which will function as an ID card to be used when buying tickets and gaining entry into stadiums at either tournament. Foreign holders of the cards, who have valid match tickets, will not be required to obtain tourist visas to enter Russia for the duration of the tournaments. Although not yet confirmed, the cards may also entitle fans to discounted travel in the regions where matches are taking place.
Prior to this announcement, President of the Russian Premier League (RFPL), Sergei Pryadkin, had announced in July that the new fan identification system would be rolled out for testing by clubs playing in the top division during the 2016/17 season, with a view to demonstrating how effective (or not) the new system is. Pryadkin noted that two clubs – Zenit St. Petersburg and Rubin Kazan – already had such a system in place, while he expressed hopes that an increase in safety in football stadiums would not discourage passionate fans from attending but, in fact, lead to "an increase in the number of more cultured people" attending games, giving the example of England, where "fans of opposing teams sit side-by-side just a few metres from the pitch."
The idea for such a system was originally proposed by the RFPL in 2012, when the league considered the introduction of a 'fan card' that would function as a personal ID and be used for a number of other services. This scheme was eventually abandoned, but not before it had prompted RFPL club Lokomotiv Moscow to introduce passport checks at its own stadium. Meanwhile, according to the RFPL's Director of Security, Alexander Meitin, a voluntary supporter registration scheme introduced at the start of the 2015/16 season had already attracted over 30,000 participants prior to the start of the current season. He credited the programme with ensuring that last season was one of the quietest in terms of fan activity in the stands. At the same time, clubs paid a total of 21 million rubles in fines for fan violations during the season, money that Meitin claimed will be invested in "work with fan groups."
Russia has been a signatory to the Council of Europe's Convention on Security at Football Matches since 3 July 2014. This document prevents known hooligans from travelling abroad when international matches are taking place and provides for bans of up to seven years to be imposed on both groups and individuals. These bans apply to visiting football stadiums and purchasing tickets, and can be applied to the individual in question both at home and abroad. Thirteen other European countries are signatories to the convention, with a further ten pledging to commit to it in the future.
Also in 2014, the Russian government, in cooperation with competition organisers and stadium owners, approved a law that introduced document checks and identity verification for people
purchasing tickets to certain sports events. This law, aimed at combatting incidents such as the infamous assault on Zenit St. Petersburg player Vladimir Granat by the hooligan known as 'Gulliver' (see Man in Moscow 10 for further details), envisaged troublemakers being put onto blacklists that are published online by the police. These individuals would then be banned from entering the entire town or wider area where sporting events are taking place. The online lists in question are to contain the full names and dates and places of birth of individuals subject to a banning order imposed by a court, along with the details of the relevant court decision.
How well the new rules are working to suppress unrest is not entirely clear. For their part, the police have blamed problems at recent matches on changes made to the "Law on Physical Education & Sports" in 2014, which transferred responsibility for ensuring order at sporting events from police to stadium owners and the organisers of the relevant competitions. Police say that not enough has been done with regard to the introduction of fan identification systems to help them prevent known troublemakers, who are subject to banning orders, from attending matches. They blamed mass brawls occurring at football matches in Voronezh and Vladimir, during the weekend of 15-16 October, on deficiencies in security systems at the arenas in question. However, although the fan identification systems have become compulsory for clubs playing in the RFPL, neither of the matches in question involved RFPL clubs. This raises the question of how much money clubs such as Fakel Voronezh or Torpedo Vladimir, playing in the 2nd division National Football League (FNL) or 3rd division Professional Football League (PFL) respectively, are expected to devote to the new measures, particularly since many clubs at this level are potentially suffering financial difficulties already.
Speaking about the situation, PFL President, Andrey Sokolov, said that police had transferred legal responsibility for ensuring security to clubs "without providing any notice to the RFS, league or the clubs themselves. They told clubs on the 24th that the rules would change on the 25th, and there were actually matches taking place on the 25th." He went on to explain that other laws, which would permit club stewards to take over functions previously performed by the police, had not been changed to correspond with the clubs' new responsibilities, either in terms of checking documents or detaining troublemakers.
In a statement in response to the above comments, police rejected the claims that changes had come as a surprise to clubs, saying that "despite more than two years having passed since the changes were introduced, the necessary mechanisms for realising the envisaged obligations have not been developed." The statement goes on to criticise stadium owners, tournament organisers and, in particular, the RFS, for their failure to make sufficient progress training stadium supervisors, even though the police apparently "actively reminded them of the necessity of these measures."
Meanwhile, in a novel idea proposed as recently as August 2016, CSKA Moscow's General Director, Roman Babaev, suggested that the club's ultras could be responsible for ensuring security in the stands at the club's brand new stadium. Speaking on the matter, he said: "as there's just a net covering the stands to stop people throwing things, we've agreed with the lads that they will take responsibility for maintaining order on the terraces, and if they break this promise, we'll install glass partitions like in the South Stand." At the same time, Babaev claimed that the club had "prepared stewards to react to any violation of social order," and expressed the hope that matches would be played "in an atmosphere appropriate to a sporting contest."
For the most part though, the introduction of the fan identification system comes against the backdrop of worsening relations between fans, clubs and the football authorities in Russia, who were angered by the bad publicity resulting from the organised violence some Russian fans engaged in during Euro 2016. Vitaliy Mutko, Russian Sports Minister and head of the Russian Football
Federation (RFS) announced shortly after the tournament that representatives of the All-Russian Supporters Union (VOB) would henceforth be excluded from the RFS. Speaking on the issue, RFPL President Pryadkin said that cooperation between football's governing body and supporters was being "re-examined" and that the two groups would "need to move towards a new form of relationship."
Despite having taken a clearly positive attitude towards the hooliganism and violence at 2016, Igor Lebedev, Vice-Speaker of the State Duma and member of the executive committee of the Russian Football Federation (RFS), apparently does not want to see such unrest at home. According to Lebedev, "the authorities in [Russia] can use the scheme, whereby tickets can only be bought using an internal passport, to fight against fan associations and supporters," adding that these measures were necessary in the run-up to the 2018 World Cup to be held in the country.
There is a marked contradiction between Lebedev's praise for nationalist hooliganism, as witnessed in the scenes in Marseille and Lille, and the aggressive position that his above comments appear to take in relation to any organised fan group or football supporters in general. This could be a cause for concern in the sense that it partially reflects the deeply negative attitude taken by politicians towards football fans in the UK in the wake of the Hillsborough tragedy of 1989, leading to a police and political cover-up lasting 27 years, which was only revealed in April, due to the dedication of campaigners for justice.
Indeed, one of the concerns around the new purchasing rules has been the potential for causing crushes around football stadiums due to the extra time taken to verify documentation. Nevertheless, RFS President, Vyacheslav Koloskov, expressed hope that it would make it easier for fans to buy tickets for matches, emphasising that fan comfort was paramount: "We need to do everything we can to make fans comfortable, since anything that could scare them into staying away from stadiums is damaging for football."
Meanwhile, an article addressing the question 'Why are football fans not attending games?' concluded that there are a number of factors keeping Russians away from football matches, not least the large distances involved in travelling to games for away and even some home fans. Also cited as primary reasons for the fall in supporter numbers were costs of attending matches, especially for those outside of the Moscow and St. Petersburg bubbles, as well as a general lack of comfort in football stadiums, due to a lack of food and drink facilities and exposure to bad weather in older arenas.
Of course, while fans' comfort and wellbeing may be important factors, a football match is primarily a spectacle and, as in many European countries, the use of pyrotechnics at games remains popular in Russia. This fact was recently demonstrated by FK Rostov fans welcoming their Champions League debutant heroes back home after a narrow defeat in Madrid by lining the street with fans holding aloft flares, along with a high-profile incident occurring in the RFPL top-of-the-table clash between Spartak Moscow and CSKA Moscow at Spartak's Otkritie Arena. This came about despite some areas of the ultramodern arena being checked up to three times for hidden pyrotechnics prior to the games, according to RFPL president Pryadkin, adding that he couldn't understand why fans would want to "sit in smoke and breathe in gases."
Inevitably, the use of flares and rockets at matches leads to criticism and punishment by the football authorities, as it has done on several occasions recently, with RFS Head Vitaliy Mutko calling their appearance at the abovementioned Moscow derby dangerous and saying "it's unpleasant, especially when fans throw the pyrotechnics into neighbouring sectors."
While no one would reasonably argue against the vital importance of fire safety in crowded football stadiums, especially in light of past tragedies like the Bradford fire, it could be argued that the constant condemnation and negative attitude to even the well regulated and sensible use of flares, in modern stadiums, could be detrimental to the atmosphere at matches. Although, with Spartak and CSKA fans at the derby throwing lit flares at other supporters and burning shirts and scarves of their rivals in the stands, the fines and response by the authorities to the events would certainly seem justified in this particular case.
Given the introduction of the fan identification system, and with FK Orenburg and Krylya Sovetov just among the most recent clubs to be hit with a financial penalty for the use of flares, it could be only a question of time until clubs use their new to figuratively douse the flames and offset the cash it cost them to install the security systems by avoiding the inevitable fines that come when fans use pyrotechnics. Whether the result is then increased and diverse crowds of supporters who feel more secure attending games or a fall in attendance and shift of violence outside of stadiums remains an open question.
Sources: (in Russian)
https://lenta.ru/articles/2016/07/05/passport/ https://ria.ru/sport/20160927/1477953076.html http://www.tvc.ru/news/show/id/46280
https://rg.ru/2016/11/08/rf-i-fifa-podpisali-memorandum-o-sisteme-identifikacii-bolelshchikov.html
https://digital.report/fifa-i-rossiya-gotovyat-k-zapusku-sistemu-identifikatsii-bolelshhikov/
http://tass.ru/sport/3770755
https://vc.ru/n/solonin-football
http://www.vz.ru/news/2016/10/24/839779.html
http://technodrive.ru/rostov.php?20819-Rostov-Arena-pasport-bolelshhika
http://tass.ru/sport/3493279
http://rsport.ru/football/20161108/1112003686.html
https://www.sport-express.ru/football/rfpl/reviews/sergey-pryadkin-zarplaty-futbolistov-nuzhno-ogranichit-1026657/ http://www.sovsport.ru/news/text-item/935098
http://newstes.ru/2016/10/24/v-mvd-obyasnili-deystviya-policii-na-matchah-v-voronezhe-i-vladimire.html
http://www.tvtomsk.ru/vesti/sport/17975-sostoyanie-polya-na-stadione-trud-ne-vyzvalo-narekaniy-so-storony-rfs.html http://www.sport.ru/football/Babaev_Bolelschiki_sami_budut_obespechivat_poryadok_na_fanatskoy_tribune/article319839/ https://lenta.ru/articles/2016/08/28/safety/
http://www.soccer.ru/blogs/record/942116 http://rsport.ru/football/20161030/1111553987.html
http://www.1rnd.ru/news/1427844
http://www.sport-express.ru/football/rfpl/clubs/news/sergey-pryadkin-kak-sami-bolelschiki-sidyat-v-dymu-i-dyshat-gazami-1061026/
http://volga.news/article/423700.html
http://www.infox.ru/sport/football/2016/11/02/__Spartak___i_CSKA_o.phtml